Home
BOI's Use of Green Technology
The Add in module in this Toyota Prius is from hymotion.com
Modules are available for the hybrid vehicles: Toyota Prius, and Ford Escape.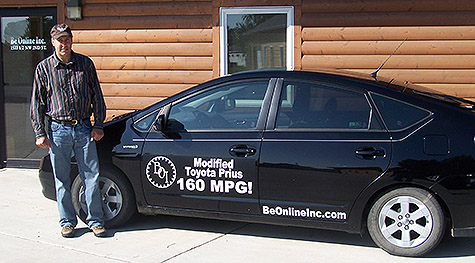 How it works:
The module increases the amount of battery in the car, and allows you to plug in the car at home. Why would you want to plug in at home? The equivalent power from electricity is similar to a gas price of $1.00 per gallon. Plus add in the fact we import half of our oil, and this is environmentally friendly technology.

Cost:
The module is not very cost effective, as batteries will probably wear out about the time it pays for itself (at today's gas prices). But this is a separate company (from Canada), and they have been working on getting it to market for several years. Usually production companies have their production cost under 50%, so they can market the product, and of course they need a return on their investment. The cost includes installation and shipping. And the production of the module contains a lot of items that would not be needed (compared to if Toyota or Ford made this as an option). My feeling is that if Toyota or Ford wanted to make this happen, it would be very cost effective for drivers. (But, I don't have any insight into automotive costs). The catch is you have to plug the car in at home. I have read Toyota and Ford don't believe that Americans want to plug in their car, but I think there are a lot of reasons to refute that, such as gas prices, export ratios, war, etc.



The mileage chart below shows the increase in mileage for the Prius. This chart will be updated over time.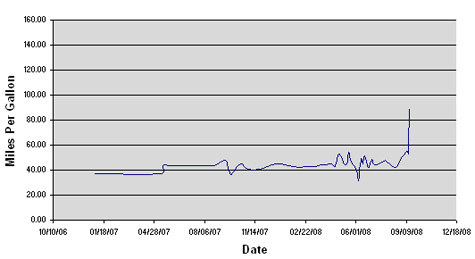 Websites Hosted on Green Servers

Websites hosted by Be Online Inc. are also hosted on Green Servers. These servers use less electricity than conventional laptops! According to a study conducted by Stanford University, energy used by server hardware, switches, routers, and supporting equipment doubled in the US and worldwide between 2000 and 2005. Many technology companies are now "going green" with server hardware and Be Online Inc. was one of the first.

If you're interested in hosting your website on a green server, call Be Online at 800 983 6322 and ask about our green website hosting packages!